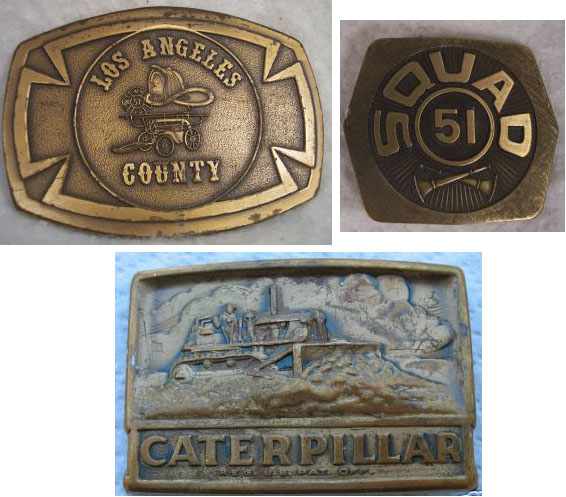 LA51 -This Belt buckle was produced and sold by the County of Los Angeles Fire Museum Association (CLAFMA) around 1979-1980.
The 2 3/8" by 3 1/4" brass plated buckle has an elongated Maltese Cross as its border with the words 'Los Angeles County' within a circle. Also within the circle is depicted a hi-eagle leather helmet (LACo in lower rocker panel) above an old hand pumper. The reason for including this belt buckle is the fact that to the left of these firefighting symbols of old is a smaller Maltese cross with (51) within its center, playing on the recently cancelled show. Issued as a fund raiser for the newly organized Fire Museum, it is unknown how many of these belt buckles were made and sold although number 757 has recently surfaced. No other identifying markings other than they are all back stamped with an issue number. According to CLAMFA president, Joe Woyjeck, the molds are still in the Museum Association's possession.
S51 belt buckle - In 1976 and 1977 numbered brass belt buckles, were ordered and sold by the LACoFD Benefit and Welfare Association. Number 1 was presented to Robert Cinader and numbers 2 and 3 were presented to Randy and Kevin respectively.
Cat Belt buckle Randy wears when off duty when appearing in several episodes of E! Note: it is seen in the tv program GO photo.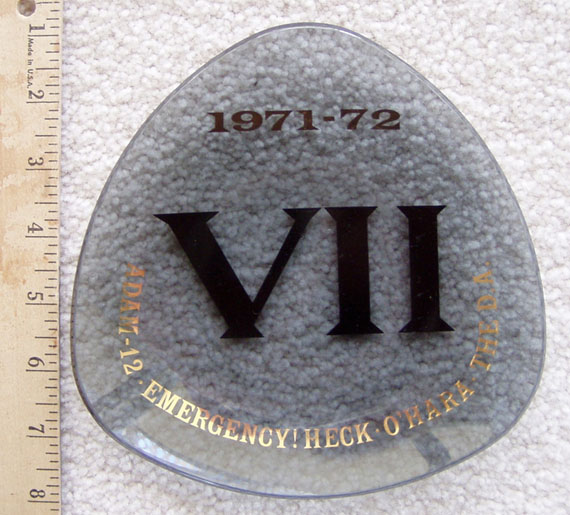 Mark VII tray
A glass tray was given out by Jack Webb the Christmas of 1972 in recognition of the programs that the Mark VII productions had on the air at the time during the 1971/1972 season. This included Adam-12, Emergency!, Heck, O'Hara, and The D.A. This glass tray, which is roughly the shape of a large piece of pie, measures 7 inches by 7 inches at its widest and tallest points. The glass is Smokey gray in color with 'Mark VII' in black lettering with the five television programs and the date '1971 – 1972' lettered in gold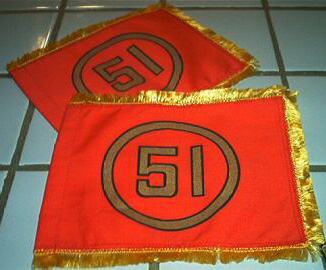 Antenna flag
This item was given out at an end of season wrap-party as a table centerpiece decoration, unknown which season. It is a 7 inch long by 5 1/4 inch high red flag with 1/2 inch gold fringe on three sides. In the center is the 5 ¼ inch in diameter gold '51' roundel, like what appears on the doors of the squad and engine (51 within a circle). It is double seamed on one edge, without the fringe, which could have been used to slip over a vehicle antenna, or in this case a miniature flag base with staff.
This item was made by Gina Casey, a seamstress who worked for Paramount and then at Universal Studios for over 20 years. As well as for Emergency!, she worked on television shows such as Coach, Murder She Wrote, and Charles in Charge; including film projects such as the Blues Brothers, Scarface, Kindergarten Cop, and Mask.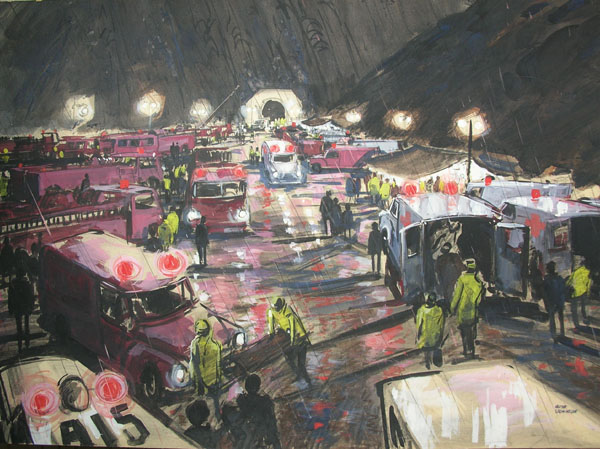 Storyboard painting of the tunnel rescue in the World Premier presented to Dick Friend.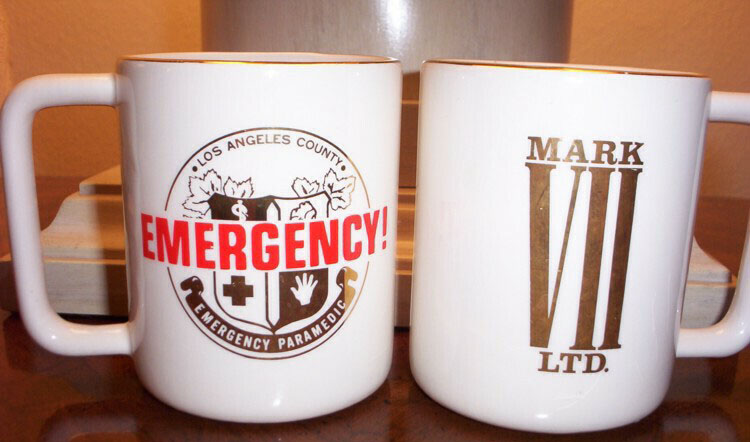 Official Mark VII Production Company mug. It is a light cream mug with the Paramedic logo in gold, as seen in end credits with the word 'Emergency!' in red over the logo; and 'Mark VII Ltd.' in gold letters on the other side.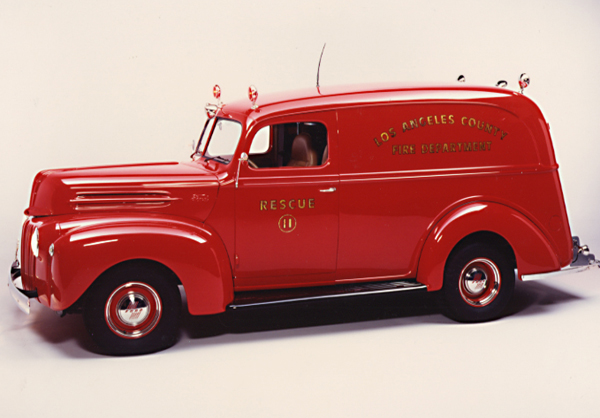 Jim Page's restored Rescue 11. Photo Courtesy Tom Page Photography